Spicy BBQ Chicken
Wings Recipe
This is a simple spicy bbq chicken wings recipe from my very own collection. It is fairly spicy so if your not that keen on hot food just tone down the ingredients a little (use less of the spicy stuff).
I'm pretty sure that you are going to enjoy this recipe. Good luck and just don't burn the chicken!


Ingredients
10 chicken wings ( depending on how many you want)
2 tbsp Red chili powder
3 tbsp Tabasco sauce or similier spicy sauce
1.5 tbsp brown sugar
4-5 Crushed garlic cloves
100ml Tomato ketchup
50ml balsamic vinegar
3.5 tbsp Worcestershire sauce
Paprika
Vegetable oil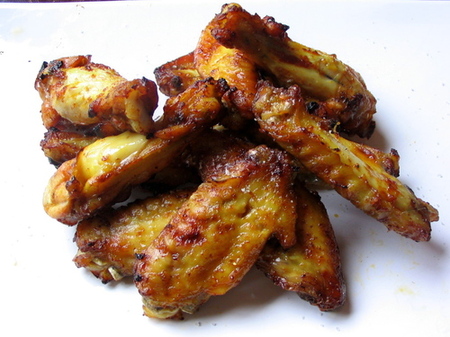 Method
Mix together the Chilli powder, sugar, garlic, ketchup, vinegar, worcestershire sauce, 1 tsp of paprika. Basicaly all of the ingredients!
Stir together well, it should make a very spicy looking sauce!
Wash the chicken wings quickly and put them into the bowl wwith the spicy sauce in. Cover the bowl with clingfilm and leave it over night in the fridge or for at least 5 hours
When it is time to bbq your chicken wings you need to get the bbq or grill nice and hot. Discard the marinade or use it for something else (like a spicy curry or something).
Cook them quickly over a high heat for about 5 minutes and them move them to a lesser heat for another ten minutes. This method of barbequing ensures that all of the flavor from the marinade is locked onto the chicken.
After ten minutes or so, check one of the wings to see if it is cooked and then serve.




Click here for another, not so spicy BBQ Chicken wings Recipe