Simple Baked BBQ Chicken
A great BBQ chicken recipe, tested and retested untill perfection. It comes from the part of the world where we love Barbacues but can never has them becasue of the rain, yes thats right, England.
I hope you enjoy it as I'm very proud of it. Please let me know what you think.


Ingredients
This recipe serves two but just multiply the amount of ingredients to suit your needs
4 Chicken legs or breast
Plain Flour
Salt an pepper
Bacon
Coriander (optional)
BBQ Sauce
2 Big cups of mushrooms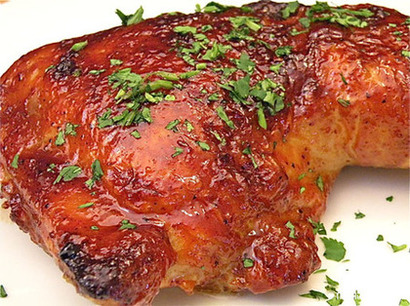 Method
Mix together the flour, salt and pepper into a large bowl and add the chicken pieces. Ensure that the chicken gets well covered in the flour.
Put the Chicken into a baking dish and put a bit of bacon on each.
Slice up the mushrooms and add to the dish. Then cover the whole dish in tin foil.
Put into a preheated oven at 200°C for about 40-50 minutes. Take out the chicken, remove the tin foil and cover in BBQ sauce.
Put back in the oven for another 25 minutes or untill the chicken is cooked.
Serve hot with salad and sprinkle with shredded Corinader.
It really is as simple as that!




Return From this Baked BBQ Chicken Recipe