Simple Baked Chicken Drumstick Recipe
A really quick and easy Baked chicken drumstick recipe. Just follow the directions and you can't go wrong!
Preperation time: 10 minutes
Cooking Time: 40 - 50 Minutes
Serves: 4
Ingredients
8 chicken drumsticks
Mayonnaise
3 tbsp French mustard
1 tspn Mixed herbs
1/2 tspn garlic powder
1/4 cup parmesan, grated
Salt and pepper
Fresh bread crumbs, 1/2 Cup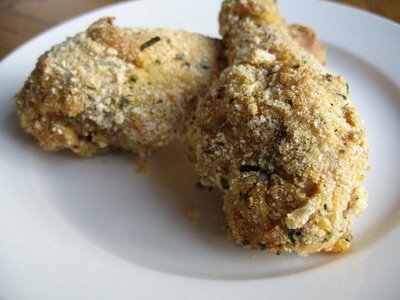 Method
Mix together the mustard and mayonaise and in a seperate bowl mix together the grated parmesan, mixed herbs, bread crumbs, salt, pepper and garlic powder.
Completely cover the drumsticks in the mayonaise and mustard mixture, it may get a bit messy so if you have a kid around get them to do.
Rub the breadcrumb and herb mixture onto the drumsticks making sure they are completely covered.
Find a simple baking dish and line the bottom with baking paper or tin foil.
Lay the chicken out onto the dish and then put into a preheated oven at 180 C for 40 -50 minutes. They should turn golden brown.




Return From This Baked Chicken Drumstick Recipe