The Best Chicken Soup recipe
Here it is! This is the best chicken soup recipe in the world. It's what you have all been waiting for so we hope you agree with us! Personally I think its greatness comes from its simplicity, like all great things in life I suppose.... Please let us know what you think.


Ingredients
This great chicken soup recipe serves 6
6 chicken Breasts
2 potatoes, large
1.5 Litre chicken Stock
4 large mushrooms, sliced thinly
1 tbsp salt
Sprig of fresh coriander
Shredded fresh basil leaves
1 large onion, sliced thinly
1 tbsp chili oil
Pinch oregano
Sprinkle of salt and pepper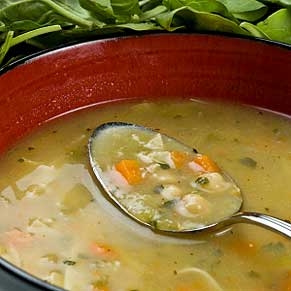 Method

Put the potaoes and the chicken stock into a blnder with a little salt and pepper. Blend untill they are nice and smooth.
Add all of the other ingredients (except the coriander) into a large saucpan and add the potato and chicken broth mixture.
Bring the pan to the boil and then turn the heat down and let it simmer for about 2 Hours.


And that is basically it. I hope you enjoy it, if you do please let us know, and of course if you have any chicken recipes that you would like to share with the world then please let us know and we will be glad to add them to our growing collection!


Return from the Best chicken soup recipe