Chicken Taco Recipe
This is a fantastic chicken Taco Recipe all the way from the heart of Mexico and a little town known as Agua Dulce. Ok, so maybe it has been altered a little but still, it's a very good recipe and well worth your attention.
Preperation time: 10 Minutes
Cooking time: 15 minutes
Serves: 4





Ingredients
3 large pieces of skinless and boneless chicken
1 Large onion
Large handful of black beans
About 1 cup of salsa
2 Bell peppers
3/4 grated cheese, cheddar or montery jack
2 Cups Lettuce and 2 chopped tomatoes
10 - 12 crispy taco shells
Guacamole
2 Cloves of garlic
Vegetable Oil
Salt and pepper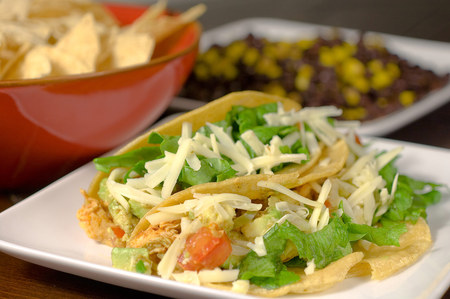 Method
Chop the onion and garlic and gently fry in oil in a large frying pan. Fry for about 5 minutes
Cut the chicken into small strips and add to the frying pan and fry gently for another 5 minutes. Add the cup of salsa and some chilli powder.
Add the chopped peppers and keep cooking and stirring unitill the chicken is cooked through. Then add the black beans and a little salt and pepper.
Simmer the mixture gently for about 3 minutes and then spoon it into the taco shells in time for serving.
Serve with the fresh lettuce, Guacamole, salsa, grated cheese and chopped tomatoes.
TIP: Serve with fresh coriander for that extra flavor.
Congratulations! You have just made an authentic Mexican dish in your own home. The kids are gonna think you awsome, trust me!
Return From this Chicken Taco Recipe