Chicken Tortilla Soup Recipe
Another beautifly simple chiken recipe. This Chicken Tortilla soup recipe is great for kids parties and adults alike.
This recipe take about 25 minutes to prepare and about 7 hours to cook. Serves 8


Ingredients
1/2 Kg of cooked chicken (chopped)
1 500g can Chopped tomatoes (mash)
1 tspn chili powder
2 cloves garlic (crushed)
1 Pint of warm water
1 tspn cumin
1 onion, Sliced thinly
3 - 4 Smal green chillis
1/2 Litre of chicken stock
Salt and pepper
Vegetable oil
1 small tin of sweetcorn
6-7 tortillas (or a bag of tortila chips)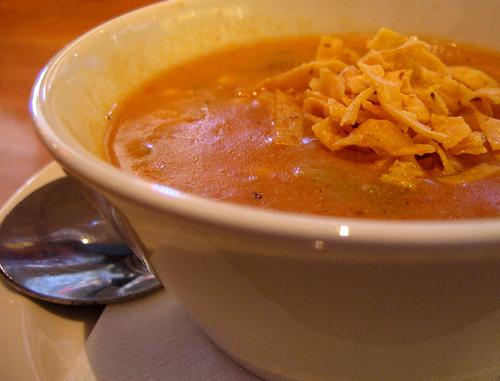 Method
Mix the chicken, sliced onion, chillies, garlic, cuminm, salt and pepper, Chilli powder, sweetcorn and tomatoes into a large saucepan.
Add the water, chicken stock and the bay leaf and simmer on a low heat for about 7 hours.
Brush the tortilla with the vegetable oil on both sides and put eash in a preheated oven untill it turns nice and crisp. They will probably take about ten minutes each.
Alternatively you can simply buy tortilla crisps from the shop but this way is more fun, especially for kids.
When you are all ready just break up the tortilla chips and add them to the soup. Simple as that!




Return From this Chicken Tortilla soup recipe