Coconut Chicken Recipe
Another truly and wonderfully b rilliant recipe from Jamaica. This Coconut Chicken recipe is one of the best there is - if you don't believe me then just give it a try.
If you don't like it you can always have you money back.....


Ingredients
750g bag coconut, shredded
1 Cup cream of coconut
1/2 Cup soy sauce
6 eggs
1/4 Cup heavy cream
1/4 Cup rice-wine vinegar
1 Cup flour
Salt and pepper
1/4 Cup brown sugar
750g boneless chicken breasts, cut into strips
3/4 Cup pineapple juice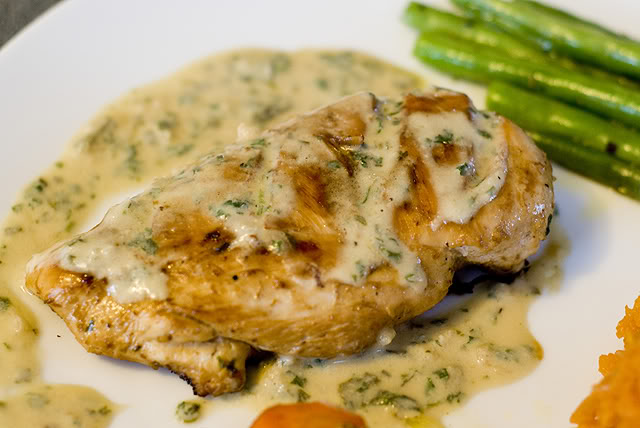 Method
1. Combine 1/4 cup pineapple juice, 1/4 cup cream of coconut, soy sauce, brown sugar and rice-wine vinegar in a large bowl.
2. Add chicken strips, cover and refrigerate 4 hours or overnight.
3. Place flour in pie plate and add salt and pepper.
4. Beat eggs and 1/4 cup cream of coconut.
5. Place shredded coconut in a bowl.
6. Dredge chicken pieces in flour, then egg mixture, then coconut.
7. Heat just enough peanut oil in a saute pan to cover the bottom of the pan.
8. Saute the chicken strips in peanut oil, about 5 minutes on each side.
9. Do not let oil become too hot or you will over brown the coconut.
10. When chicken is cooked, remove from pan and keep warm.
11. Drain the pan of any leftover oil but do not scrape out
the drippings.
12. Add the remaining 1/2 cup pineapple juice and 1/2 cup cream of coconut to the pan along with the heavy cream.
13. Cook, scraping the bottom of the pan, until sauce has thickened.
14. Use sauce by pouring over the chicken or as a dip for the chicken pieces.




Return From this Coconut Chicken Recipe