Easy Chicken Salad Recipe
Im afraid to say that this is not actually one of our recipes but we liked it so much that we though it worthy to include in our collection. After all our aim is get the greatest collection of simple chicken recipes in the world and I don't think that we could achieve that without this beautiful recipe.
So thankyou Jamie Oliver for your lovely and simple chicken recipe.


Ingredients
For the Chicken
• 1.3kgl free-range chicken

• a few black peppercorns and bay leaves

• 2 teaspoons ground cumin seeds

• a handful of almonds
For the dressing
• 2 tablespoons whole milk natural yoghurt

• 3 tablespoons good-quality mayonnaise

• 2 lemons, juiced and zested

• 1 cucumber, peeled and diced

• a small bunch of fresh basil, leaves picked and torn
to serve
• 2 big handfuls of mixed salad leaves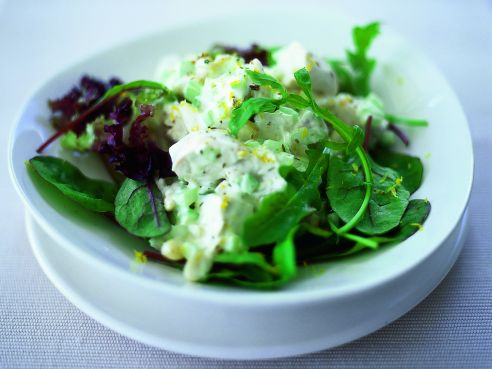 Method
To poach the chicken, place in a large saucepan, cover with water, add the peppercorns and bay leaves and bring to a gentle simmer. Poach for about 40 minutes. If you can, leave it to cool in the liquid. Take the chicken out of the pan, remove the skin and shred the meat. Dry-fry the cumin and the almonds in a hot pan and leave to cool.
To make the dressing, mix the yoghurt, mayonnaise and lemon zest and juice in a large bowl. Add the chicken, cucumber, cumin and almonds with the torn basil. Mix well and serve


Return From this Easy Chicken Salad recipe