Healthy Chicken Soup Recipe
This is a fantastic, healthy chicken soup recipe to boost the imune system and the soul! This chicken soup recipe is designed to be simple so great for those with limited brainpower and especially good for those with flu and a hangover.


Ingredients
This recipe serves six and take about three hours to complete. (not much preperation time don't worry)!
1 chicken
3.5 litres of water
1 leek
1 medium parsnip
2 carrots
Soup noodles or pasta (optional)
1 bay leaf
1 medium onion, sliced
1 bunch of flat leaf parsley
Salt and pepper to taste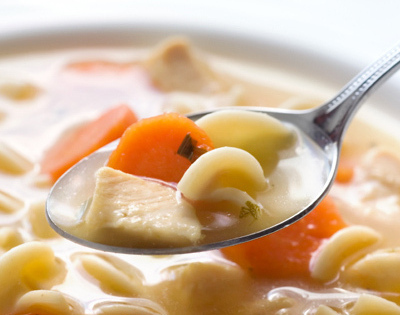 Method
Firstly chop all of the vegetables into whatever size you feel best.Put the leek into a large saucepan with the chicken. Fill the saucepan with water (not all the way up).
Crunhc up the bay leaf and throw that in and also add some freshparsley if you have some. Bring the pan to the boil and then let it simmer for about 2 1/2 - 3 hours.
Drain the water into another saucpan and add the carrots. It is also a good idea to chop up a bit of chicken and add that as well. Save the rest for sandwiches or somethings.
Cook for another 15 minutes on a low heat and serve with fresh parsley and bread and butter.
It really is as simple as that!




Return from this Healthy Chicken Soup Recipe