How to make a Chicken Salad
In my opinion, everybody should know how to make a chicken salad, it's like a life skill. Well once you have done it you know how so here is my attempt to teach how to make a chicken salad. It is not difficult and quite rewarding so here we go.
Just follow the directions below and you can't go wrong.....


What you need
1 small Chicken or equvuilant in chicken pieces
Selection of salad leaves
Olive oil
Salt and pepper
3 sprigs of thyme
Parsley
1 Red onion
1 Cucumber
14 Cherry tomatoes
Stoneless Black olives
1 Lemon
Honey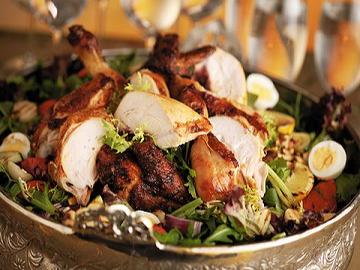 What to do
Ok, first of we need to cook the chicken so find an oven tray and put the chicken in it. Pour on some olive oil and then rub in some salt and pepper.
If you've got time, shred the thyme and rub that in aswell.
Put the chicke into a preheated oven at 180 C for 50 - 60 minutes or untill it is cooked all the way through. Put to one side.
Wash the salad leaves andput them into a large bowl. Chop up the tomatoes and put them in along with the olives, red onion, cubed cucumber.
Chop up the chicken and lay on toip of the salad
For the dressing
Squeeze the lemon into a small bowl and add two seaspoons of honey, 2 tbspn of olive oil, and the copped parsley. You may need to add a small amount ofsugar to sweeten it.
Pour all over the chicken salad and bobs your uncle. You've just made one of the finest chicken salads ever! (Hopefully)
TIP: Boil some eggs and slice them up aswell to add another dimension to this dish
---
If you found this recipe useful the please let us know we would love to hear you comments.
If you have any recipes that you would like to send to us then just follow the directions on this page . We would love to hear from you.




Return from How to make a chicken salad