Simple Chicken Stew Recipe
This is an incredibly simple chicken stew recipe that you can eat like it is already or you can add you very own ingredients to make it your own.
I hope you enjoy it. If you do end up adding you own ingredients then please contact us and tell what you put in and wether it worked or not. It will be interesting for us and useful for our current and future visitors.
Now, just in case you were wondering, this recipe actually comes from one of my mothers greeks friends, she very kindly sent it to us and we love her for it. So everyone thank Adriana.


Ingredients
About three chicken breasts, skinless
1 Medium Onion
1 Tin of chopped tomatoes
1 Small pack of instant noodles, plain (or chicken if you must)
1 Litre of chicken stock
Garlic
1 cup of fresh garden peas
1 cup of peeled and chopped carrots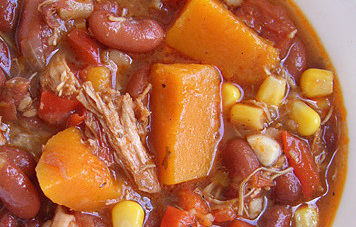 Method
Find your stewing pot or crockpot and add the chicken stock. Turn the heat up high and then add the chicken breasts. Leave them to simmer gently untill they go soft (About 8 Minutes) and the remove
Add the tomatoes, onion, garlic and carrots along with some salt and pepper.
Chop up the chicken and add that to the pot along with the peas
Turn the heat on really low and cover the dish. Cook far about 30 minutes or untill the chicken is cooked.
Serve nice and hot with some mashed potato or just on it's own.


Return From This Simple Chicken Stew Recipe