Chinese Sweet and Sour Chicken Recipe
This is a really simple, chinese sweet and sour chicken recipe that has travelled thousand of miles to be here now, well from the take-away on the corner actually but it took me like a whole 10 minutes to walk there and back to get this recipe. Plus there was a long wait so.
Serves: 2
Preparation: 10 Minutes
Ingredients
This recipe isn't the exact one they gave me in the Chinese restaraunt but thats only because they buy cheap things in bulk which kind makes for poor quality. The basics are here and this is damn slight nicer than there recipe.... I might even open my own take-away..?
3 Boneless Chicken Breasts cut in half (thats six halfs)
1 red and 1 green pepper
4 Tbsp Cornstarch
Vegetable oil
1 Tbsp Sherry
1 Tin of Piineapple chunks
1 Egg White
1.5 Tbsp of Brown sugar
2 Cups of chicken Stock
1 Carrot
1/3 cup of water
Splash of Soy sauce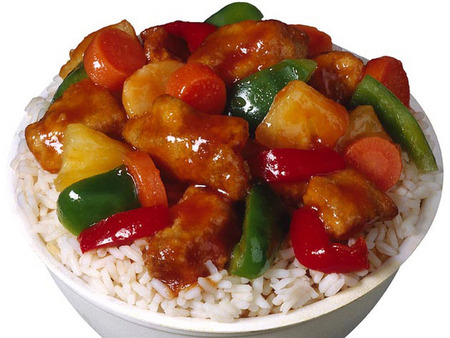 Method
Mix the egg white with 1 tsp of cornstarch and mix untill it goes airy and frothy. Keep beating and then add another 2 tspn of cornstarch. As you beat the mixture should start to form stiff peaks. If it does not do this then start over.
Cut the chicken breasts in half and then again into long strips.Dip these strips into the egg white mixture. Make sure they get covered in the egg white.
Heat some oil in a large wok and add the strips of chicken in the oil a couple at a time untill they turn a nice brown colour. Set aside on some paper towel to dry.
In a seperate bowl mix the water, 1 tbsp of cornstarch and the pineapple chunks. Mix well.
Clean the wok and heat some more oil, add the peppers and fry for a few minutes.
Steam the carrots for 5 minutes and then chop and add to the wok.
Add the sherry, soysauce, sugar and liquid from the pineapple tin. Get it nice and hot and then add the cornstarch mixture and then the chicken strips.
Mix well and the sauce should thicken nicely. Serve with some steamed rice.
Simple




Return from this simple sweet and sour chicken recipe