Follow the links for our latest articles!
Chicken Kiev recipe
This chicken Kiev recipe was invented in the Moscow Merchants club in russia. It later became the popular meal of choice for many of the soviet countries around the 20th century.
Unlike the chicken corden bleu , the chicken kiev doesn't contain ham or cheese but rather a large dollop of garlic butter.
Ok, history lesson over, lets begin on the fun part shall we! This is a great chicken kiev recipe, like all the classic dishes it's pretty simple as well. I hope you enjoy it and if you don't, well..... you didn't cook it properly so try again!
Oh, and one more thing, people really love chicken kievs, especially homemade ones so always make a couple extra than you need.
Preparation time: 15 Mintes
Cooking time: 40 minutes
Serves: This recipe makes 4 Kievs





Ingredients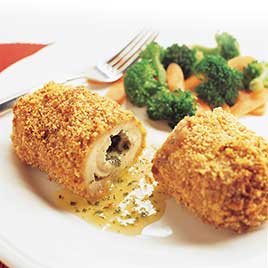 2 large Chicken breasts, no bones and no skin please
Salt and pepper
150g Plain four
Parsley
3/4 cup Bread crumbs (dried)
Chives
50g butter
1 egg
Water
Method
The chicken
Cut the chicken breast into half (sideways). Wrap each bit in cling film and hit with a m allet untill they are nice and thin.
Melt the butter gently with some chooped parsley, chopped chives, and a little salt and pepper. Put into the fridge.
Once the butter has gone hard again, cut it into four and put a bit on top of each chicken breast.
Roll the chicken breast up nice and tightly and secure with a cocktail stick.
The coating

Beat the egg and one tablespoon of water together.
Dip each rolled up bit of chicken into the flour and then straight into the egg and then again straight into the breadcrumbs.
Make sure that each bit is completely covered in breadcrumbs.
Preheat the oven at 180 C and the cover with tinfoil and bake the chicken kievs for about 20 minutes. Remove the cover and bake for another 20 Minutes.
Make sure the thicken is cooked prooperly and serve with french fries and vegetables

Tip: Use garlic butter instead of plain for a smooth garlic kiev!


I hope you enjoyed this fine chicken kiev recipe